THE COMPANY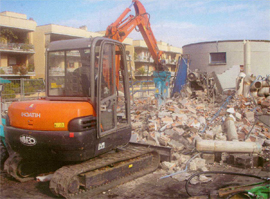 A success based on the evolution
It has been over 40 years since Ornello Cocco founded the first nucleus of what is today one of the most important companies in the Lazio region, in the extraction of aggregates with three limestone quarries located in the province of Frosinone, earthmoving, excavation, demolition, transportation and recycling of inert materials. The family Cocco, in fact, over the years has maintained a level of quality and professional edge that allowed him to expand and modify the structure, its services, its machinery, thus adapting to the continuous evolution and transformation of the market. The five group companies operate independently and individually specialized.
OUR SERVICES
Our services: Demolition in elevation of reinforced concrete structures and steel, Washed aggregates.
The NCL is at the top of the demolition, with the use of advanced techniques, but it is also present in other areas of the building such as earth moving, dredging canals and reservoirs, topographic and geological and other services.
Demolition civil and industrial sites
Controlled demolitions
Recycling waste materials with brand Green Mineral
Recycling used tires
Reclamation