ABOUT US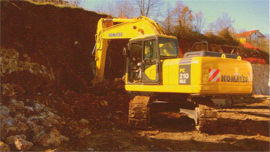 A success based on the evolution.
It has been over 40 years since Ornello Cocco founded the first nucleus of what is today one of the most important companies in the Lazio region, in the extraction of aggregates with three limestone quarries located in the province of Frosinone, earthmoving, excavation, demolition, transportation and recycling of inert materials. The family Cocco, in fact, over the years has maintained a level of quality and professional edge that allowed him to expand and modify the structure, its services, its machinery, thus adapting to the continuous evolution and transformation of the market. The five group companies operate independently and individually specialized.
The NCL Group was founded in 1982 for the production of cement and quarrying activity today is at the top of the demolition, favored both by the government policy and common time to encourage the redevelopment of old brownfield sites to be converted into residential areas, from 'Another of the actual need for additional space to accommodate the new facilities and commercial facilities, all with the use of advanced techniques, responsible for the analysis for the intervention of the relevant areas of demolition including all stages removal and disposal of hazardous substances in approved landfills.
In addition to the simplified procedures you can replace the demolished waste in the site or other areas, all without leaving any evaluation to the case for a real professional and not improvised.
The NCL has conquered the place as first company in the south center that operates in this particular sector at the national level with immediate answers to 24 hours 24 to any public and private emergency procedures for recovery disaster areas by collapses and natural disasters such as floods, earthquakes and landslides. In addition, the NCL is present in other areas of the building such as earth moving, dredging canals and reservoirs, topographic and geological and other services.
NCL Group
The NCL Group is formed by several companies operating in specific sectors.
The main companies are:
NCL Group s.r.l. (demolitions, landfills, quarries)
SE.IN. s.r.l. (recovery and disposal of waste)
Arcese Norma s.r.l. (quarries and inert)
Mineraria 3C s.r.l. (carbonates and micronized)
PICK SPA (production of technical mortars for construction)
Green Mineral (Inert recovery)
Centro sportivo Ali Cocco (recreational activities)